What is Vendor Management?
Vendor management refers to the set of processes used by organizations to manage their suppliers, who are also known as vendors. Vendor management includes activities such as selecting & onboarding the vendors, negotiating contracts, controlling costs, reducing vendor-related risks and ensuring service delivery.
Vendor management empowers an organization to take appropriate measures for ensuring excellent service deliverability and deriving value from vendors in the long-run. This includes evaluating vendor performance by setting organizational standards & KPIs, and ensuring that the vendors execute the order delivery on time and in turn the payments to vendors are also made on time.
Challenges in Vendor Management
Extra Time & effort spent in manual data entry for new vendor creation in ERP
Inaccurate or redundant vendor data entry
Compliance issues in procurement due to vendor data not being updated on time
Lack of proper confidentiality and security for vendor documentation
No proper way in measuring vendor performanc
Vendor Onboarding
Vendor onboarding refers to the process of collecting the information needed to approve a person, organization or group as a vendor/supplier and enabling your organization to conduct business, purchase goods and services, and make payments to that vendor.
Key Challenges in Vendor Onboarding are:
Organizations spend a lot of time and effort in the onboarding process
Manually capturing the key vendor details and the mandatory documents
Conduct supplier screening and evaluation
OptiVMS – Integrated Vendor Management solution
OptiVMS (Vendor Management System) is an Integrated Vendor Management solution powered by SAP Business Technology Platform (formerly called SAP Cloud platform).
The application is hosted on SAP Business technology platform and available on subscription plans.
It provides a platform for enterprises of any size or nature to efficiently engage & collaborate with their vendors.
It has a vendor portal, which provides self-service and secured access to the vendors for various communications, submission of the registration documents and specific information required by procurement and admin teams of the companies.
It provides the procurement and admin teams to easily review and approve details provided for new vendor registration
It enables timely communication with the vendors throughout the procurement lifecycle
It helps to track Vendor performance and compliance with policies via dashboards, reports and KPIs
Key Functional Areas
Vendor On-Boarding allows initiation of electronic forms for new vendor creation and sharing with the vendor to complete the self-registration.
Vendor Self-Service allows vendors to maintain their own details and monitor the status of purchase orders and submitted invoices.
Vendor Management allows procurement staff to manage the vendor approval, qualifications and certifications and also tracks their validity status.
Vendor Communication allows to send and receive information with your suppliers as required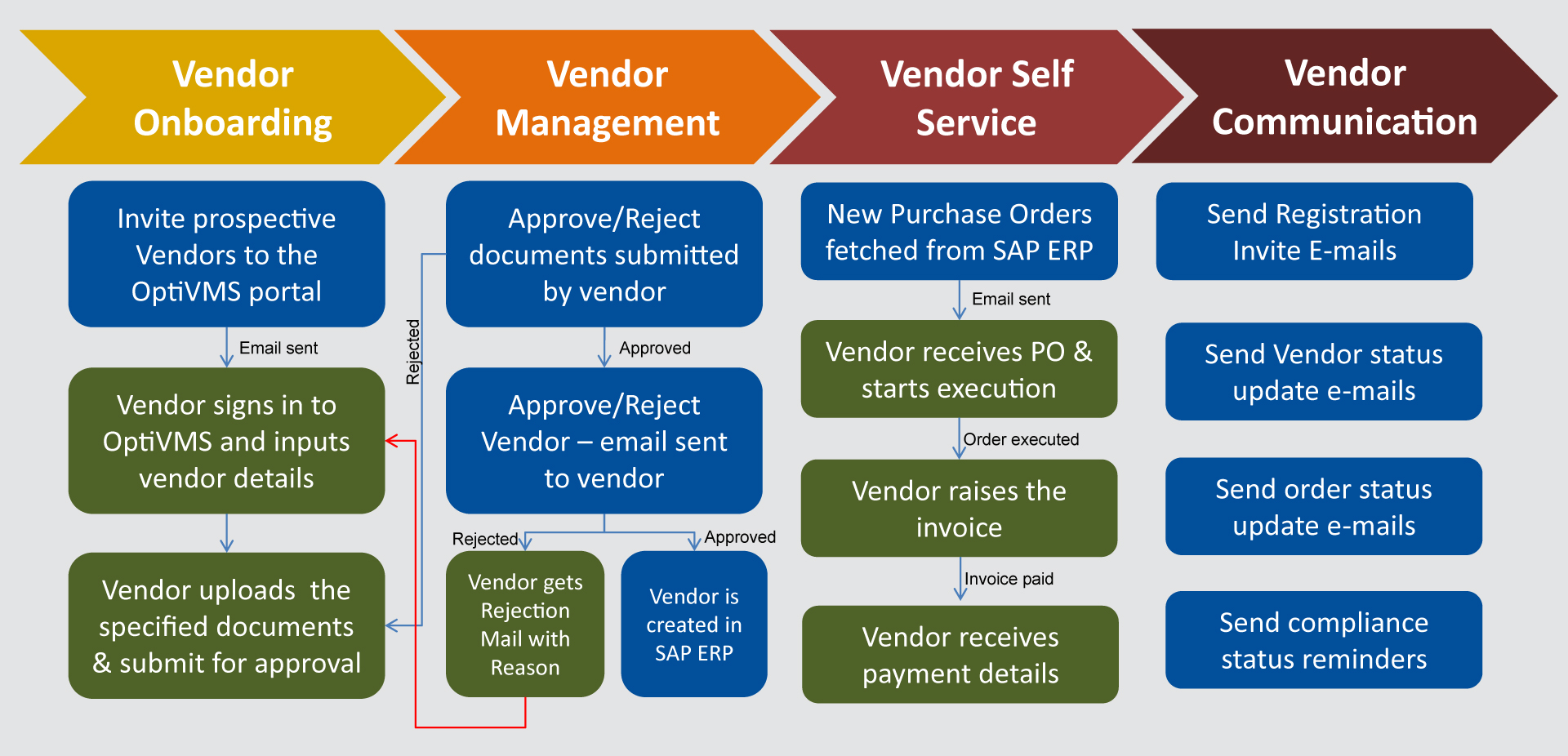 Sample Process Flow in OptiVMS
Key Features:
Mobile friendly Web Application
Role based secure access for both vendors and internal staff
Vendors can directly maintain their own address, bank and details
Automatically updated to backend SAP ERP
Easy set-up of approval management work flow
Documents stored securely in document management system
Share Purchase Orders electronically with vendors ***
Electronic Submission of Supplier Invoices by vendors ***
Alerts via e-mail to vendors and internal staff/admins
Benefits:
Reduction of effort & time spent by Procurement team as the vendor data maintenance is mainly done by vendors themselves
Faster vendor creation helps to improve compliance with procurement policies
Comprehensive encryption and access rights management ensures security and confidentiality of vendor information
Business rule validations improve the accuracy and reliability of vendor data
Automated SAP integration saves effort and ensures data integrity
Real time status tracking of procurement processes ***
Enhanced visibility of the supply chain *
Product Flavours
OptiVMS comes in two flavours: SaaS and Private Edition.
Software as a Service (SaaS)
SaaS is a software licensing and delivery model in which software is licensed on a subscription basis and is centrally hosted.
OptiVMS application is hosted in Innoval's SAP BTP Provider Account.
Client specific data is restricted to the concerned client.
The number of users can be increased or decreased as needed.
One time setup costs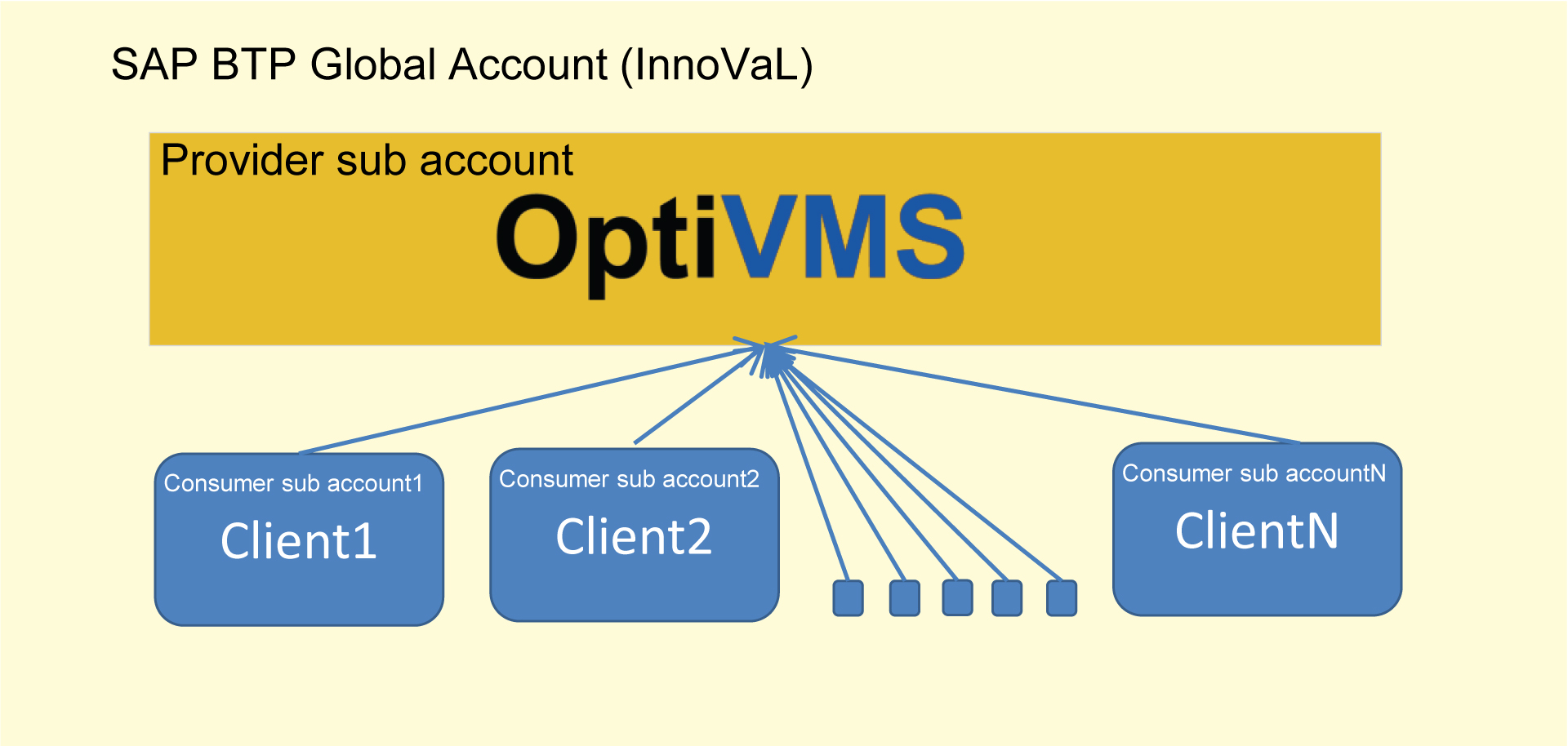 Private Edition
OptiVMS application is deployed on the customer's global account of SAP BTP.
The client needs to take care of the SAP BTP license costs
 There will be an initial implementation cost involved
 AMC option is available for continued support & upgrades

For further info on OptiVMS please do reach out to us at info@ivldsp.com or visit us @ https://www.ivldsp.com/