End-to-end GST Solution For Business Enterprises Using SAP ERP
IVL's OptiGST is the ultimate solution to manage all aspects of Goods & Services Tax Management – from e-filing GST returns to reconciliation of vendor and customer invoices. The solution is a SAP Certified Add-on that shares the same environment as that of SAP ERP. This makes it easy to implement downstream functionality with minimal implementation/ customisation effort.

Watch Complete Product Walkthrough
Helps in GST Returns Preparation
Registers for Tracking GST Relevant Data
Reconciliation Features
GSP Integration for E-filing
Base Scope Highlights
GST Returns
GSTR1 – Outward Supplies Made by Taxpayer
GSTR3B – Consolidated Monthly Return
GSTR2 – Inward Supplies Received by a Taxpayer
GSTR3 – Monthly Return
GSTR6 – Return for Input Service Distributor
Registers
Sales Register
Purchase Register
Stock Transfer
FI Register
ISD (Input Service Distributor)
Challan Creation, Maintain & Display
GSTR6 Return Filing
Vendor Reconciliation – Reconciliation of Vendor Invoices with Purchase Register – GSTR2A
Customer Reconciliation – Reconciliation of Customer Invoices with Sales Register – GSTR1A
Roadmap Items
GSTR7 – Return for Tax Deducted at Source
GSTR9 – Annual Return
Refund Form
Exporting customers / Deemed Export
Accumulated ITC Refund
GST RFD-01 – Refund Forms for Refund Claims with Central & State
Annexure 1 Details of Goods
Outward Supply Process Flow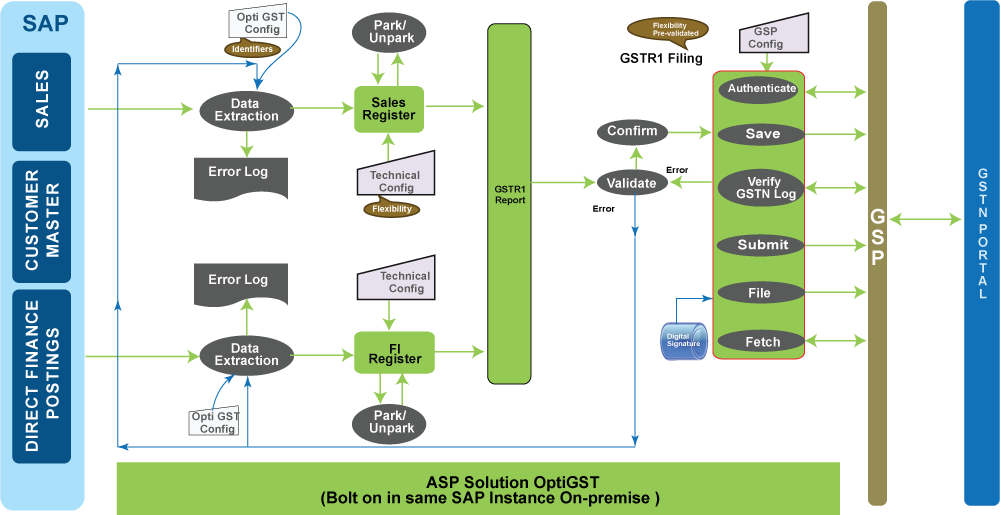 Inward Supply Process Flow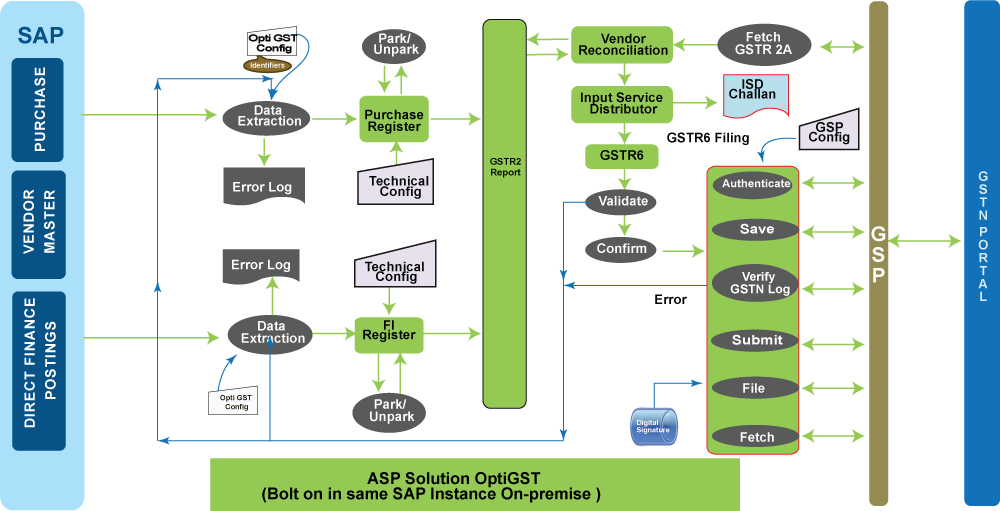 Seamless Integration Across SAP Processes

OptiGST is an add-on product which is deployed on the same server as that of SAP ERP.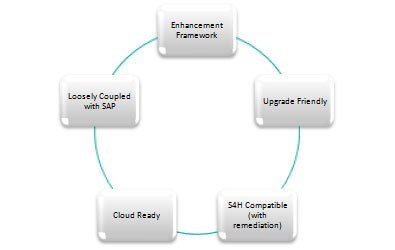 OptiGST has a loosely coupled architecture that provides customers with 3 deployment options as per their landscape.
REGULAR Deployment – Suitable for Single Instance SAP ERP Customers.
EMBEDDED Deployment – Suitable for customers having multiple Instance SAP & Non-SAP ERP Environment with one of the SAP ERP instance acting as a HUB.
HUB Deployment – Suitable for customers having huge volumes of data, multiple Instance SAP & Non-SAP ERP Environment with a standalone NetWeaver (with ECC) system acting as a HUB.
On-Premise, SAP Add-On
No Additional Hardware, No Cloud Subscription, No Technology Upgrade
No Additional Cost for DB Administration
No Conflict with SAP or Custom Objects (Separate Namespace)
Flexible Architecture
Extensive Configuration Options, Easy to Maintain
Possible to Handle Combined GST Returns Filing – Covering Multiple SAP/ERP Instances if such Consolidation is Needed (Single GSTN Regn.)
Can Adapt to Multiple GSPs Who are Conforming to GSTN Guidelines
Handles GSTN Data-size Restrictions in Terms of Volume of Data per Cycle
Pre-configured & Pre-validated for Some of the GSPs
Accelerator to Save Implementation Time
Best Practices on Custom-Enhancements
Facilitates Smooth Upgrades and Management of Customizations
Security
Authorization
Data Encryption, Encoding
Possible to Do End-to-end GST Activities from within SAP ERP
No need for Interfaces / Download / Upload (For Single Instance Model)
Automated Data Extraction Based on Configurable Parameters (Background Jobs)
Incompletion Logs after Extraction
Manual Controls / Verification in SAP before Filing Returns
Access to GSTN from SAP ERP Itself (GSP Integration)
Secure GSTN login Credentials/Sessions Using OTP
SAVE, SUBMIT and FILE GSTR1 Returns in GST Network (FILE Requires Digital Signature)
Fetch GSTR Data from GST Network
Quick in Processing of GST Returns from SAP into GSTN
Reconciliation
ISD, Refunds
No Need to Log in to Any Other System or Portal
Configurable Identifiers for Mapping SAP Identifiers into GSTN Parameters
Customer Tax Classification, Material Tax Indicator, Document Types, Tax Codes, ISD ratios
State Code, Unit of Measure, Reason for Debit/Credit Note
Compliance Status Dashboard/Report
Internal Audit Report Comparing GSTR 1 and GSTR 2 with G/L
Training
User Manuals & Configuration Guide
Self-Service Tools for Trouble-shooting
Dedicated Product Team to Handle Statutory Changes, if any, by GSTN / Govt.
Proven Support Model Under AMC
OptiGST Solution has value added features which are packaged separately and which complement the overall solution.
Data Consolidation
Suitable for Multi Instance ERP Customers
Consolidates Data from Multiple ERPs before Filing

Vendor Reconciliation
Required for GSTR2 Filing
Generates Lists of Mismatch Invoices
Identifies Defaulting Vendors

Report Extension
Reconciliation Features with G/L Accounts in FI Module
Edit Feature
Utility to Edit GST Returns Data
OptiGST : Complete Product Walkthrough