E-way bill Generating System for Business Enterprises

IVL's E-way bill Generating System – The E-Way bill is an electronically generated document which is required for the movement of goods of value more than INR 50000, from one location to another.


SUITABLE FOR
Vendors & supplier companies
The Opti E-Waybill is generated online on the National Informatics Centre (NIC) portal for transportation of goods, both inter and intra state. Goods and Services Tax (GST) regime has mandated the generation of the e-Way bill from 1st April 2018. This replaces the Way bill which was earlier required under the VAT regime.
The process involves a registered tax payer generating the e-Way bill for their outward supply document on the NIC. A unique e-Way bill number (EBN) is generated for each e-Way bill.
Opti E-Way Bill Solution caters to the statutory requirements of generation of E-Way Bill in the GST regime. It is an add-on solution for SAP ERP which provides business solution for compliance requirements for the generation of E-Way Bill.
With the subject matter expertise in Indirect Taxation and exposure to business scenarios mapped in SAP, Opti E-Way Bill Solution has been developed with close collaboration with the industry needs.
Generation of E-Way bill by downloading JSON file as well as direct integration with the NIC portal through API calls.
Update & Cancel E-Way Bill number in a uniform & organized manner across all depots/warehouses in the organization.
Rejection of incorrect EWBs generated by counterparties
Get the details of already generated EWB from the NIC portal
MIS Reports
Alerts on EWB nearing validity , EWB generated by others on tax payer GSTN no
High level Solution Architecture Diagram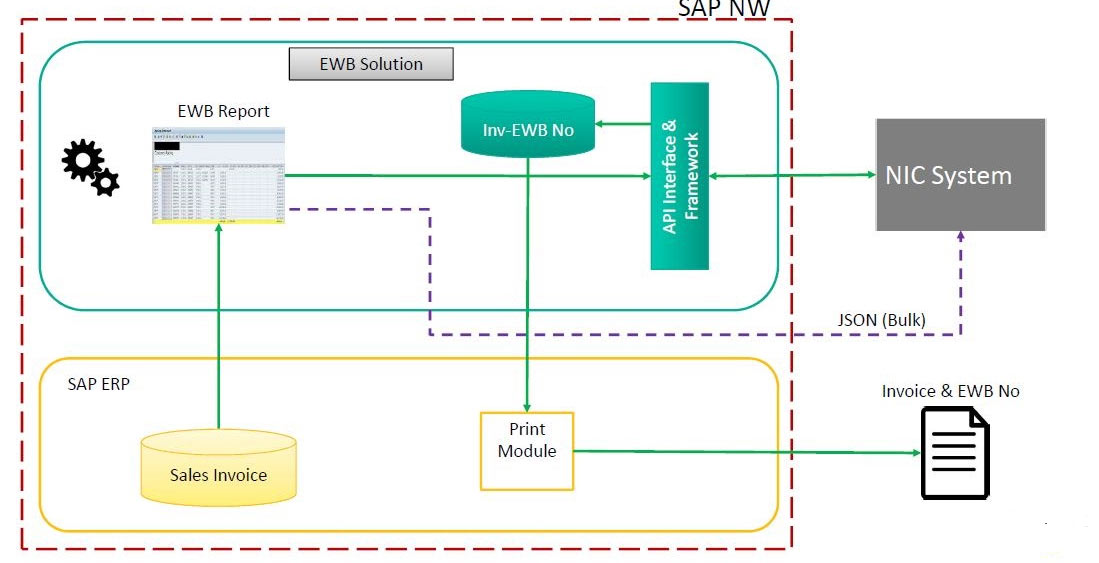 E-way Bill Solution Advantages

On-Premise, SAP Add-On
No additional hardware, No cloud subscription, No technology upgrade
No additional cost for DB Administration
No conflict with SAP or custom objects (separate namespace)
Flexible architecture
Extensive configuration options, easy to maintain
Best practices on Custom-Enhancements
Facilitates smooth upgrades and management of customizations
Security
Authorization objects
Data Encryption as per NIC standards
User-friendliness
User friendly design
Highly configurable
No need to log in to any other system or portal
Seamless integration with NIC portal
Ability to configure multiple GSPs
Scalability
Scalability in supporting any future changes introduced by the government for E-Way bill generation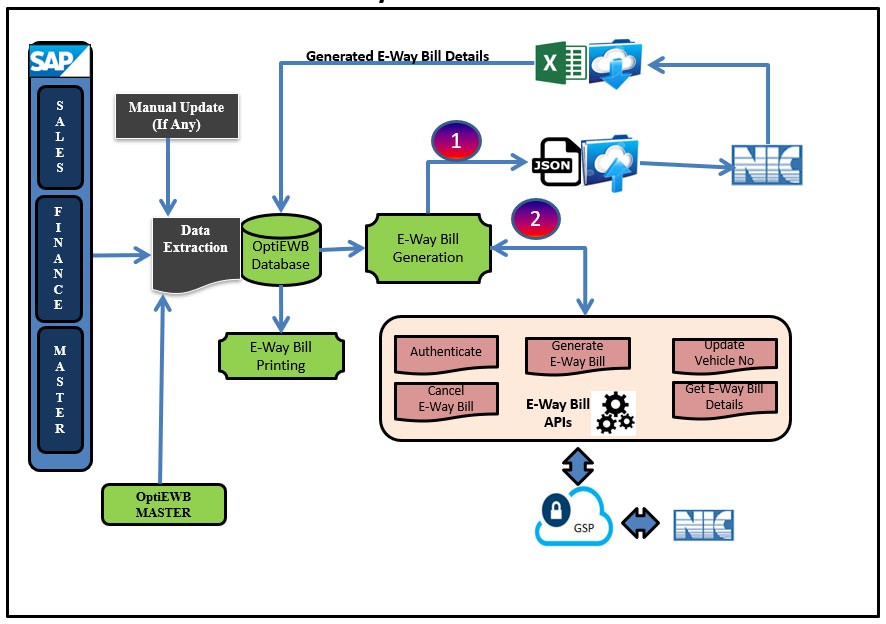 A cost-effective and rapid deployment model that does not require investment on new hardware, cloud subscription or SAP platform upgrade.
The solution (software and data) does not require separate administration (would get covered under the usual backup / disaster recovery plans of SAP ERP). Data encryption and Archiving covered under the product roadmap.
Pre-configured integration with specific GSPs have been provided which helps in accelerating the deployment as well as ensuring flexibility to adapt to new GSPs.
AMC Support
With Opti E-Way Bill, IVL is responsible for building, implementing, configuring & supporting solutions (including statutory changes), with a proven history on capability and sustainability