Integrated E-invoicing System
for SAP ECC/S4 HANA system users for India
OptiE-invoice is the only ready product that covers and meets complete
functionality as per Government mandate for e-invoicing under GST.
Generate your e-invoice seamlessly thro automatic real time online integration by secured communication with Government portal (IRP)
Built using SAP technologies as Add-on tight integration and end-to-end for e-invoicing.
No file upload/download. No additional hardware, servers or administration
Same familiar user interface and UI makes adoption easier
MIS reports and dashboards
Assurance of support and further updates of any changes from the government
Some of the large organisations have already selected and started the implementation of OptiE-invoice
Hurry Up – Trial/Voluntary period already started from 1st January, 2020
Overview
The Indian government has announced the introduction of 'E-Invoicing' or 'Electronic Invoicing' for reporting of business to business (B2B) invoices to GST System, starting from 1st January 2020. It is important that your current ERP system (Like SAP) accordingly allows you to seamlessly generate, submits and files E-Invoices into government portal without additional or manual data entry. The generated E-Invoice follows standard that is also machine-readable and will have uniform interpretation across various stakeholders and the whole business ecosystem. This is a statutory requirement for all business processes to be compliant as per stipulated regulation from the Government. OptiE-Invoice allows the generation of E-Invoice under GST, transmit to Invoice Registration Portal (IRP) via authorized" GSP and receive a unique Invoice Reference Number (IRN), digitally signed E-Invoice and QR code.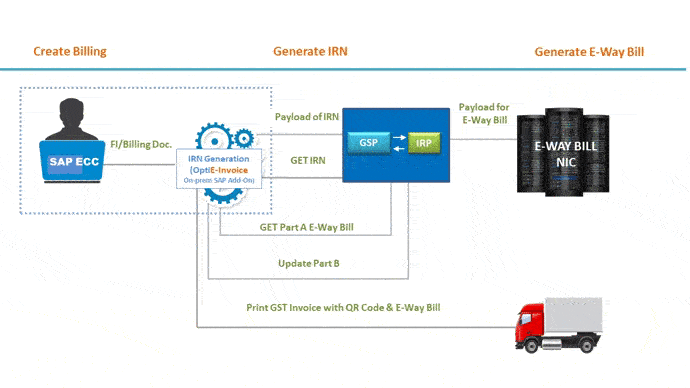 Optie-invoice a complete SAP E-invoicing software for enterprises with all latest government mandate under GST.
Comply with Mandatory e-Invoicing with SAP E-invoicing Software developed by Innoval Digital Solutions. Optie-invoce - Perfect SAP Partner for GST E-invoicing.
Features
Online API Integration
Authentication with GSPs, IRP
Generation, Cancellation, Printing and Tracking of GST E-Invoice as per the proposed format
E-Invoice directly from SAP billing transactions
MIS Reporting – Status, Reconciliation
Alerts and Dashboards
Benefits
On-Premise, SAP Add-On

No additional hardware, No cloud subscription
No additional cost for DB Administration
No conflict with SAP or custom objects (separate namespace)
Integration with SAP

Flexible architecture

Extensive configuration options, easy to maintain
No additional cost for DB Administration
Best practices on Custom-Enhancements
Facilitates smooth upgrades and management of customizations

Security

Authorization
Data Encryption

User friendliness

No need to log in to any other system or portal for GST E-Invoice generation

Dedicated Product team to handle statutory changes, if any by Govt.
Dedicated help desk team for SLA-driven support under AMC

Architecture Diagram