Lab Information Management software (LIMS)
For Analytical and quality control Labs
OptiLIMS is a cloud-based lab information management system (LIMS) for Analytical and Quality Control Labs to manage the end to end operations – starting from sales functions right up to reporting and invoicing. LIMS provides the best response to current needs and also capable to be adjusted promptly as your business needs change.
Watch Complete Product Walkthrough
Download Brochure
Overview
OptiLIMS is a centralized work flow management solution to control the scientific test process management. It can effectively manage all operations from sample registration, price list, test methods, test process with multiple workflow, reporting, certificate generation, retention management, inventory management, invoicing, MIS, statutory compliance, Sales operations etc.
It is capable to integrate with test equipment via API, also modulated to sync with different test standards suited for countries or to regulatory organizations. Considerable manual effort can be saved with built in result calculation, certificate generation with the benefit of added accuracy and efficiency. Reports can be generated using pre-defined, configurable templates. MIS helps to measure productivity of organization or lab or division or equipment or even that of an analyst which results in improving the efficiency. Sample collection trip management, reminders, Online access of certificates, reports, invoices are helpful for better customer satisfaction.
Features
Real-time Customer Interface
Sales Process Management
Detailed Pricing Module
Lab operations Workflows
Test Management
Specifications and Standards
Country/ Regulator Specific Reports
Automated Report generation
Alerts for tasks and delays
Approval Management
Retention & Stock Management
Reports & Certificates Repository
Automated Invoicing
Test Equipment Integration
Sample collection Scheduling
Inventory Management
Equipment Management
Extensive MIS & Dashboard
Benefits
Total control over the process
Centralized dash board view
Improved turnaround time
Process compliance
Reduction in operational errors
Increased customer satisfaction
Process Flow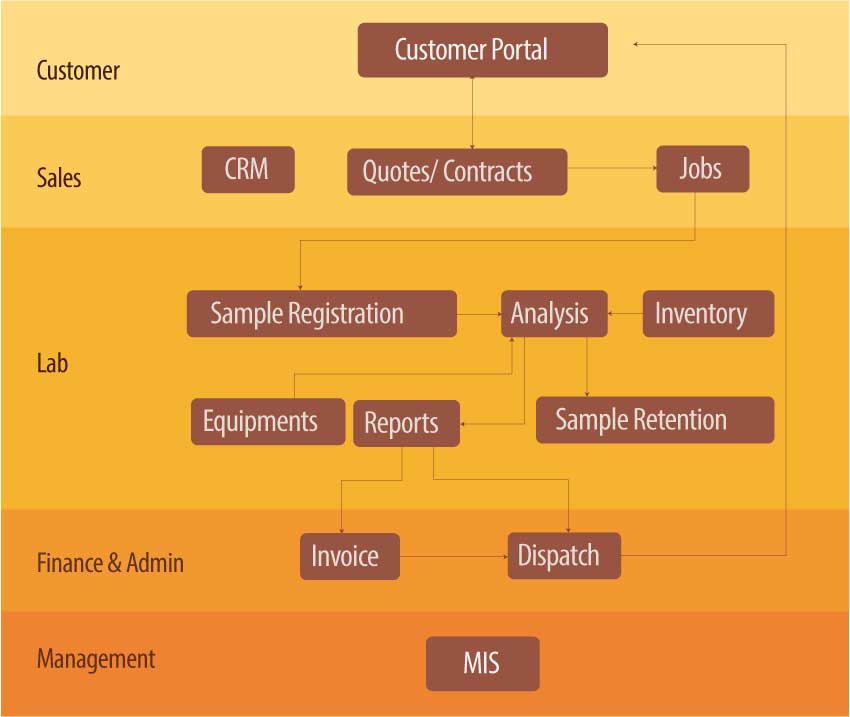 Environmental
Food & Beverage
Mining & Metals
Oil & Gas
Pharmaceutical
Process & Chemical
Microbiology
Pharmaceutical
OptiLIMS : Complete Product Walkthrough