Invoice Processing For Supplier Companies
iDeck enables organizations to automate the processing of large numbers of supplier invoices. Relevant fields from vendor invoices are extracted from scanned documents using OCR and NLP technologies. iDeck offers the perfect user interface for visually matching the fields in the vendor invoices to fields in the corresponding POs/ GRs, and then for Parking, Simulating and Posting validated Invoices in the ERP.

For Vendors & supplier companies
Watch Complete Product Walkthrough
Invoice processing represents a significant overhead for most businesses. Manual data entry of supplier invoices is slow, time consuming and very expensive. iDeck enables organizations to automate and streamline the processing of supplier invoices.
iDeck automatically extracts information from any incoming invoice, validates it and transfers it to your ERP (SAP) system. Irrespective of the invoice layout, iDeck can process any invoice from any supplier in almost any format using in – built OCR technology. Having identified the supplier from the unique characteristics of the document, IDeck intelligently highlights and extracts the pertinent references and amounts. Additionally, iDeck can validate the extracted data against the accounting system, e.g. supplier details, purchase orders, and automatically highlight discrepancies for the attention of the operator. As well as capturing supplier invoice information,iDeck can also capture information from other documents from your suppliers and customers, such as purchase orders, checks and remittances.
Automatic Content Analysis and Recognition of Key Information
Automatic Recognition of the Supplier
Tightly Integrated with ERP (SAP) Systems
Very Easy Addition of New Suppliers
Built-in Support for Regional Variations
Automatically Builds a Knowledge Database of Documents and their Structure
Extensive Validation Techniques are Utilized to Ensuring 100% Accuracy.
User-friendly Validation with Drag-and-drop OCR
Recognition of Foreign Invoices
Handle Single and Multi-page Invoices with Attachments
BENEFITS
Reduced Data Entry Costs
Single Process for Paper/ Electronic Invoices
Reduced Processing Times
Improved Speed
Improved Data Integrity
Very Short-term ROI
TECHNICAL SPECIFICATION
Platform – J2EE
Technology and Frame works – ICR, Struts2, Hibernate, JavaScript, HTML and AJAX,
Operating Systems and Servers – Windows, MySQL, Apache Tomcat
Languages – Java
Database – MySQL, SQL Server,
Integration – SAP-ERP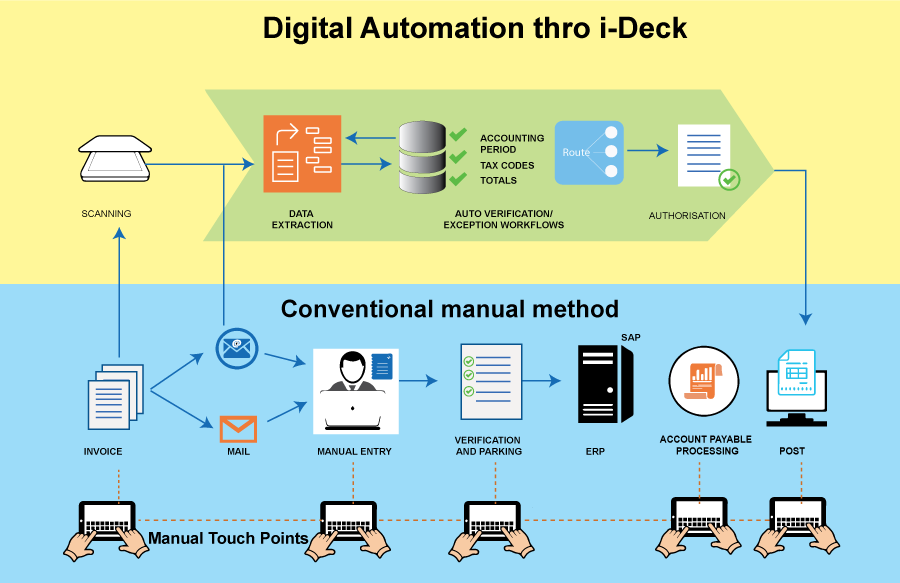 Ideck : Watch Complete Product Walkthrough