The business landscape in India is being revolutionised everyday if not every hour! Such is the speed of changing preferences of Indian consumer, companies are on constant pressure to launch something new almost everyday. E-commerce boom in the country along with the entry of global giants and deep pocketed private equity players spoilt the good old Indian consumers. Today his demands are skyrocketing, giving a nightmare for even multinationals, as he is wooed in with discounts and offers to try new things. It's easier to grab the lion share of his mindspace as he lives every second on a connected world. If you are failing to win the battle for consumers from India, you are certainly losing the world war. The worldwide headquarters of most MNCs have opened special war rooms for India strategies, as winning Indian consumers became central to their existence anywhere.
The penetration of digital gadgets and easier access to internet alone accelerated this redefining of business conduct. Agility, innovation and customer experience became the cornerstone of any business. The consumer expectations are hitting the roof, the supplier efficiencies are being tested every day, the winning formulae got shifted from delivering just product quality to delighting them with product experience. Every small thing matters there, from that simple information message on the SMS to the smile on the face of the delivery boy! Rating and feedback are powerful weapons in the arsenal of these consumers.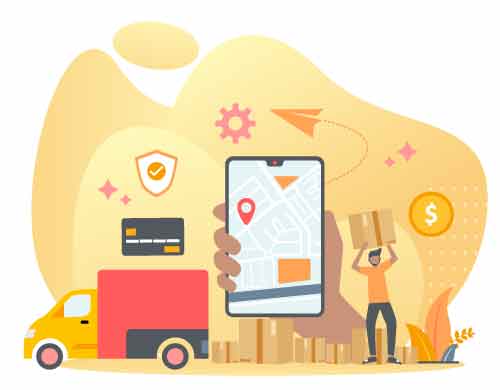 While the product quality has improved dramatically, the product/ service ordering became easier than ever with e-commerce platforms and mobile apps. The e-commerce majors have set new benchmarks for product deliveries and shrunk the delivery time to a day or little more than that. This puts enormous pressure on companies, as they struggle to match with the expectations of customers who are again spoilt with these earlier than expected deliveries!
Here comes the importance of goods transportation businesses. The transportation operators are trying to build last-mile connectivity in every nook and corner of this country with high visibility and tracking. The predictability, cost efficiency and customer experience becomes the primary yardsticks of the transportation industry these days. The efficiency of transporting makes a bigger impact on successful businesses, as India is not connected seamlessly with an efficient transportation network.
The Indian transportation business faces numerous business and operational challenges – lack of infrastructure, lack of vision to improve efficiencies, not so friendly policy implementations, not recognizing it as a priority sector, the list goes on. They face challenges starting from high operational costs, shortage of trained manpower, capacity constraints, absence of unified policies across the country, unstructured business processes of various industries and SMEs, lack of supply chain efficiencies etc.
They have to tide over critical challenges like truck and fleet maintenance, customer services, competitive pricing, safety and security of goods, goods insurance, payment collection, visibility and tracking, enhancing customer experience, warehousing, statutory compliance etc other than numerous day to day operational challenges.
Compared to full truck load transporters, part truckload and parcel service companies face more complex issues. When the branches are spread across states, the challenge is to operate trips by ensuring maximum efficiency, also to deliver goods within the committed time frame. To ensure this, the challenges start at the booking stage itself, where details are keyed in, distance, destination, direct route, mode of delivery, weight and volume, nature of parcels, distance to the location from a branch, all of it matters a lot. The competition and entry of newer players with high technology budgets make it all the more difficult for small and medium transportation and logistics businesses to operate profitably and to grow their network. The solution is simple – import technology and makes it the backbone of the transportation business. It has it's immense power to transform the transportation business. It can simply save manpower, avoid many errors and lapses, increase efficiency, improves customer experience dramatically and all the above it adds profits – the ultimate objective of any business. To operate profitably, every transportation operators need to make technology their backbone, as the software solutions and mobile apps are transforming the landscape of transportation like never before. The businesses need software platforms which are highly reliable, scalable and integrated with all features that required to satisfy the customer demands, to efficiently optimise resources like truck, warehouse, delivery/ pick up operations, revenue collection etc.
While these are the pillars of a parcel service business, there are numerous other features that matter a lot– differentiated rates for customers, discounts, individual billing methods, taxation and statutory features, automated loading and unloading sheets, routing, tracking and tracing, predictive information and alerts, handling breakdowns and trip deviations, fleet maintenance, trip expense calculations, administrative matters, various MIS reports, accounts and audit information, stock in godown, returned goods, factors affecting profitability, availability of data for intelligent route and trip planning, also for capacity utilisation etc are essential for any transportation system.
Innoval has launched the cloud version of its product 'Carego' which serves leading transporters for more than 12 years to grow their business YoY and to stay ahead of the curve. This cloud version makes it possible to have real-time controls in a much agile fashion. The application has made a significant improvement in performance and data management. The solution helps to automate the operations and provide a dashboard view and insights for running the business in an agile fashion and to increase profitability. It can provide waybill wise profitability calculations, as it can capture all operational expenses incurred from booking to delivery.
The future for transporters is bright, and with the growing business trends and changing, consumer behaviours are only going to make it more exciting for transporters. But the challenge lies in how they can chew. The answer lies how far they can ride on the back of technology, which has the power to take them far and wide, beyond borders and sectors which they operate now.