Catastrophes that may destroy your SAP Systems and precious data at any time
A disruptive event can be anything that puts an organization's operations at risk, from a HW failure to power outages and backup failures to natural disasters. Well defined Contingency plan will support you to run business continuously during an unplanned disruption in service.
Innoval helps customers to create a contingency plan which will determine a way to recover the Production environment completely at a different site if a disaster destroys the primary site.
Business Scenarios
Customer has several SAP Landscape in their data center including ECC, BW, PO, CRM, SRM, Supplier Portal, Enterprise Portal etc. with strong backup and recovery strategy in place and all the Production systems are HA configured and load balancing enabled. In case of any Production down due to HW failure database switch to another instance. System availability is 100% except any planned downtime. In this situation, if any natural disaster like hurricane, Tsunami or Fire happens the entire datacenter washed out including all the backups and tapes kept internally or nearby.
In this juncture, the best way to prepare your business for recovery from this type of disaster is to ensure that you have offsite copies of your data. If your production data lives on-premise in one of your datacenters, this would mean keeping backups of the data at another datacenter site or in the cloud. If your data is hosted in the data center on-premise, you could back it up to external storage on cloud or a different region of the same cloud.
Hence we strongly recommend that the data on the primary system should keep updated and sync with secondary DR System on the Cloud. This will give you a confidence that you will have a 100% safety of your data on Cloud during any catastrophes.
Business Continuity Plan for SAP Production environment on Cloud
Rather than spending a huge amount of money to setting up and maintaining a DR site several miles away, it is easier to replicate data or entire applications on the Cloud and run a DR site completely on demand.
Big cloud vendors like AWS and MS AZURE offer a fully managed DRaaS (Disaster Recovery as a Service) solution.
What Service Cloud providers offer for DRaaS Solutions?

Azure Site Recovery (ASR) from Microsoft
Azure Site Recovery
replicates workloads running on physical and virtual machines (VMs) from a Primary site to a Secondary location. When an outage occurs at your primary site, you fail over to secondary location and access the Applications from there. After the primary location is running again, you can fail back to it.
How it works:
Setup an Azure account and install the Mobility Service (an Agent) on each on-premise server you want to protect.
Create a Vault in Azure Recovery Services, setup a Source Environment and assign an on-premise server as a Configuration Server. A special master agent is installed on this machine.
Setup the Source Environment via the Configuration Server, ASR discovers other VMs in your on-premise environment and you can add them to your Source Environment.
Setup the Target Environment Define a Target Environment composed of Azure machine instances and other services.
Define a replication policy.
Enable replication, enable replication for each server. When you enable replication for a server, it can take 15 minutes or longer for changes to take effect, and appear in the portal.
Run disaster recovery drill
Cloud Endure Disaster Recovery
Most Popular!
CloudEndure DR
allows you to achieve business continuity for your most critical databases, as well as enterprise applications such as SAP. When you set up CloudEndure Disaster Recovery, your source machines are replicated to AWS, kept up-to-date with all application changes, and ready to run on your target AWS Region.
How it works:
Install CloudEndure Agent on your source machines which connects to your source machines and replicates all of the data into your target AWS Region.
Staging Area contains low-cost resources automatically provisioned and managed by CloudEndure Disaster Recovery.
Continuous Replication, CloudEndure Disaster Recovery continually replicates any changes you make to your source machines into the staging area
Orchestration and Machine ConversionCloudEndure Disaster Recovery performs automated orchestration and machine conversion so that your source machines will boot and run natively on AWS
Failover,If disaster strikes, click a button in the CloudEndure Console to launch an automated failover
Failback, CloudEndure Disaster Recovery uses automated machine conversion and orchestration technology to perform a rapid failback into your source environment.
DR Replication architecture of AZURE & AWS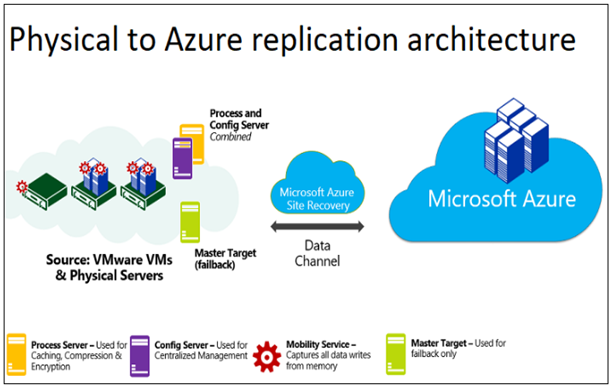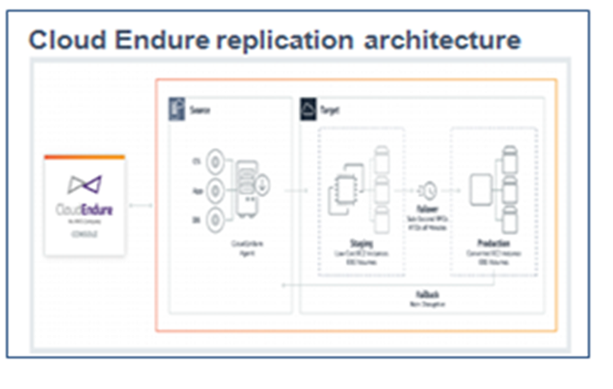 Advantages of DR Solutions on AZURE
Cost effectiveness: ASR is cheaper than its industry rivals
No infrastructure required: The customers do not require any additional software infrastructure, such as VMs or applications along with the Azure subscription to enable this feature. There is no additional cost at all for deploying, monitoring, patching and maintaining any DR infrastructure.
Top notch RPO and RTO performance: Azure Site Recovery (ASR) is supported with 99.9% SLA and a comprehensive 24x7x365 support to keep the enterprise running. The recovery point objective (RPO) and recovery time objective (RTO) offered are accurate enough to assure the availability and compliance of the Azure applications to the enterprises.
Selection of DR Region: Users are allowed to select the DR region according to the workload flexibility. They can easily replicate and protect the IaaS based applications that run on Azure to a different Azure region.
Summary
Article Name
How to maintain business continuity in shutdown scenario
Description
A disruptive event can be anything that puts an organization's operations at risk, from a HW failure to power outages and backup failures to natural disasters. Well defined Contingency plan will support you to run business continuously during an unplanned disruption in service.
Author Name
Publisher Name
Innoval Digital Solutions