India's Remarkable Economic Growth:
India has recently emerged as one of the world's fastest-growing economies, overtaking the United Kingdom in GDP. According to the 2023 World GDP ranking, India has secured its position as the 5th largest economy globally, boasting an estimated GDP exceeding 3.4 trillion dollars and a population of over 1 billion. With a rapidly growing middle class and a strong appetite for foreign goods and services, India's Economy Survey forecasts an impressive growth rate of 6.5% for the fiscal year 2023-24. This remarkable growth trajectory is driven by increasing consumption and investments, both from domestic and international markets, propelling India towards a higher-ranking GDP on the global stage.
The Ideal Time for Global Expansion:
For any global company considering expansion, India offers a ripe opportunity. The timing couldn't be better to enter and operate in India, leveraging the vast business potential. Under the Manufacture and Other Operations in Customs Warehouse (MOOWR) scheme, global companies can establish their facilities in India. MOOWR represents a set of regulations designed to facilitate the establishment of manufacturing and other operations facilities anywhere in India, with the overarching goal of positioning India as a global manufacturing and assembly hub. In this article, we will delve into the benefits that international companies and organizations can derive from manufacturing and assembling their products in India under MOOWR.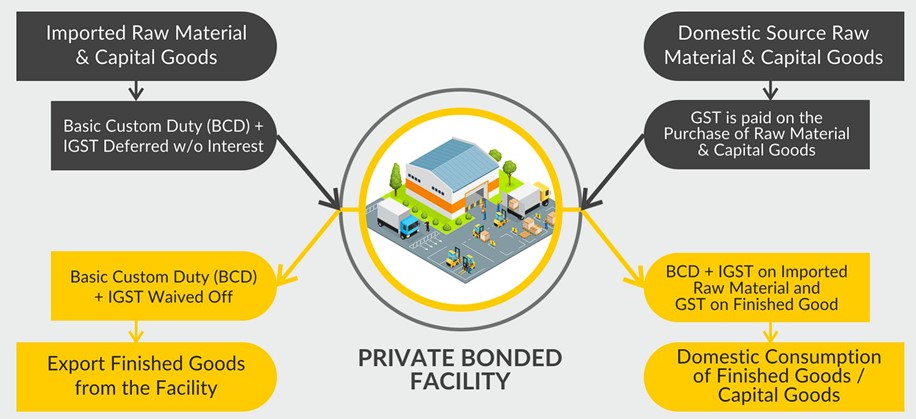 Understanding MOOWR:
MOOWR, or the Manufacturing or Other Operations in Warehouse Regulations, is a comprehensive set of guidelines published by the Indian government to encourage foreign investment in the country. This scheme allows anyone to establish manufacturing or assembling units in India without any quota system or export obligations against imports. Furthermore, it extends its benefits to manufacturers or traders importing goods for domestic sale. The primary aim of MOOWR is to simplify and streamline the process of setting up operational units while providing various incentives to businesses that choose to operate in India.
Why Choose India for Manufacturing:
India presents a compelling case for manufacturing due to its vast domestic market and an abundant pool of young, talented, and cost-effective human resources. Whether for short-term or long-term objectives, establishing manufacturing operations in India is not a matter of "Why," but "When." While challenges may exist in setting up production facilities in India, MOOWR provides effective solutions to navigate and overcome these challenges.
Ease of Manufacturing in India under MOOWR:
For international companies or organizations looking to expand their operations in India, MOOWR offers several significant advantages:
Simplified Setup: MOOWR streamlines the process of setting up manufacturing and other operations in India. The scheme provides a clear framework for establishing operations, helping foreign companies, and even Indian subsidiaries navigate India's complex regulatory landscape efficiently. This translates into savings in time, money, and resources.
Financial Incentives: MOOWR offers duty exemptions and other financial incentives, enabling businesses to reduce costs and enhance profitability.
Streamlined Customs Procedures: Businesses operating under MOOWR can enjoy streamlined customs procedures, reducing delays and saving time during imports and exports.
Access to a Growing Market: Operating under MOOWR enables businesses to tap into the vast Indian market, characterized by a rapidly expanding middle class with a strong demand for foreign goods and services.
Benefits of MOOWR for Foreign Companies and Organizations:
MOOWR reflects the Indian government's commitment to boosting the "Atmanirbhar Bharat" or "Make in India" initiative. Key highlights include:
Single Approval & Form: A single application cum approval form simplifies the process for obtaining a license for a private bonded facility and permission for manufacturing and other operations.
No Time Restriction for Warehousing: Capital and non-capital goods can be stored in warehouses until they are cleared and consumed, without any time constraints.
No Geographical Limitation: New manufacturing facilities can be established, or existing ones can be converted into bonded manufacturing facilities, regardless of their location in India.
Easy Compliance: All records of manufacturing and other operations can be maintained digitally in a single format, simplifying compliance.
Conclusion:
In conclusion, MOOWR represents a crucial set of guidelines for any company aiming to expand its operations in India. By offering a clear framework for establishing operations and providing various incentives and benefits, MOOWR empowers businesses to navigate India's complex regulatory landscape, reduce costs, and enhance profitability. India's ascent as a global manufacturing powerhouse presents an exciting opportunity for international companies to participate in and contribute to this extraordinary economic growth journey.